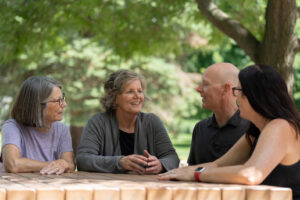 For too long, our politicians have failed to listen and solve problems.
The voters of the 21st District have not had a choice for state senator since 2008. We deserve real representation and real solutions. 
My family taught me the value of hard work, being useful, and making the world a better place. It's time we had legislators who shared those values. I've been fixing things since I was a child, and I plan to continue fixing things and helping others as your next state senator.
Our state faces big challenges, but we have the chance to build an Illinois we can be proud of.
We've got to move Illinois forward and rise above the partisan finger-pointing holding us back. Together, we have a chance to build an Illinois we can all be proud of. The people of the 21st district deserve real representation and real solutions. By working together for our shared values, we can achieve a bright future for our economy, our communities, and our families.
We need new leadership to make our voices heard, a fresh perspective to get the job done, and someone who is focused on making our state stronger instead of scoring political points. And that's why I'm running.

I want to bring honesty and transparency back to Springfield and work for an Illinois where every person has the opportunity to build a promising future.
Like most voters over the past few elections, I have found myself frustrated at the lack of options at the ballot box. After the 2016 elections, I decided that I would stop complaining and start running! 
Our district deserves a voice that will speak out for working families. As a wife and a working mother of two, I will be a voice for middle class families in our community.
I believe in a strong public education system that benefits all students, no matter where they live. I want my children, and all the children in the district, to benefit from an educational system that is fully funded and full of opportunities.
Getting our state back on track and ensuring Illinois is growing with solid financial footing is one of my priorities. We need to make sure that jobs and economic opportunities are coming back to our communities.
I am committed to serving our district with a new perspective, one that reflects our values and highlights the strengths and unity of our vibrant communities.