Laura has held a lifelong passion for learning and believes that all children should have access to a quality education. With two children in Naperville public schools, Laura understands the importance of strong public school systems and reducing educational inequality.
"We all value education and know that our great schools are key to building a brighter future. Affordable quality education provides opportunity to our young people to succeed right here in Illinois. An educated, skilled workforce is part of what makes us strong. We must ensure that every child across Illinois can access a great education. When I talk to people at their doors about the issues they most care about, I hear from so many parents of young kids who worry about good, strong schools, college affordability, and school safety."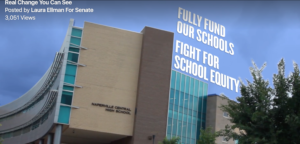 The current State Senator has been working to cut funding to our schools and universities, cutting our kids off from a future here in Illinois. He's voted against MAP grants to make college more affordable, a bill that makes sure kids who can't afford lunch aren't going hungry in school, and he even voted against evidence-based funding to improve school equity that brings almost $350,000 a year to our own local schools.
Laura will work to bring equity to public school funding and provide public schools the resources to stay competitive, without being over-reliant on property taxes.